Oak Grove's 1~5th Annual Women's Conference
October 21 @ 5:30 pm

-

9:30 pm

Free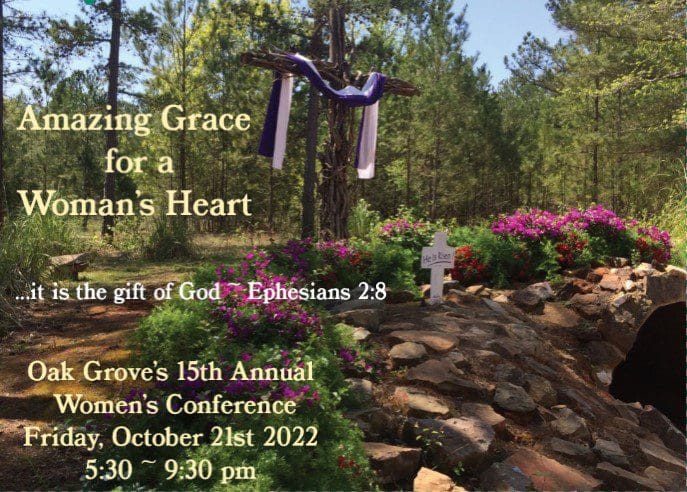 Please join us in a night of fellowship as we dive into God's Word and are reminded of ABBA Father's Amazing Grace as we journey through the Bible.
For it is by grace you have been saved, through faith – and this is not from yourselves , it is the gift of God. ~ Ephesians 2:8
Nettie Patterson ~ Oak Grove's Praise & Worship leader, will lead us in an amazing evening of Worship to our Lord!
Lou Taylor ~ Oak Grove's Women's Ministry leader, will share what the Lord has placed on her heart about God's gift of GRACE. Wherever you are in your walk with the Lord in this season of life…on the mountain top or in a difficult  valley…please come and let the Lord minister to your heart through His Word, singing Praises to His Name and sharing a sweet fellowship of laughter and tears with your Sister's in Christ.
New Creation, a ministry in Troup, Texas will be with us sharing testimonies of how God is changing the lives of men and women through their Restoration programs for HIS GLORY! We will take up a love offering for this ministry to help continue God's Kingdom work!
The conference is free and refreshments will be served.
Visit us on Facebook or oakgrovebible.org to register and let us know you're coming!
We look forward to seeing you!
Related Events