BLOOM
April 14 @ 10:00 am

-

5:00 pm

|

Recurring Event

(See all)

April 14 and April 15, 10am - 5pm

$10 – $15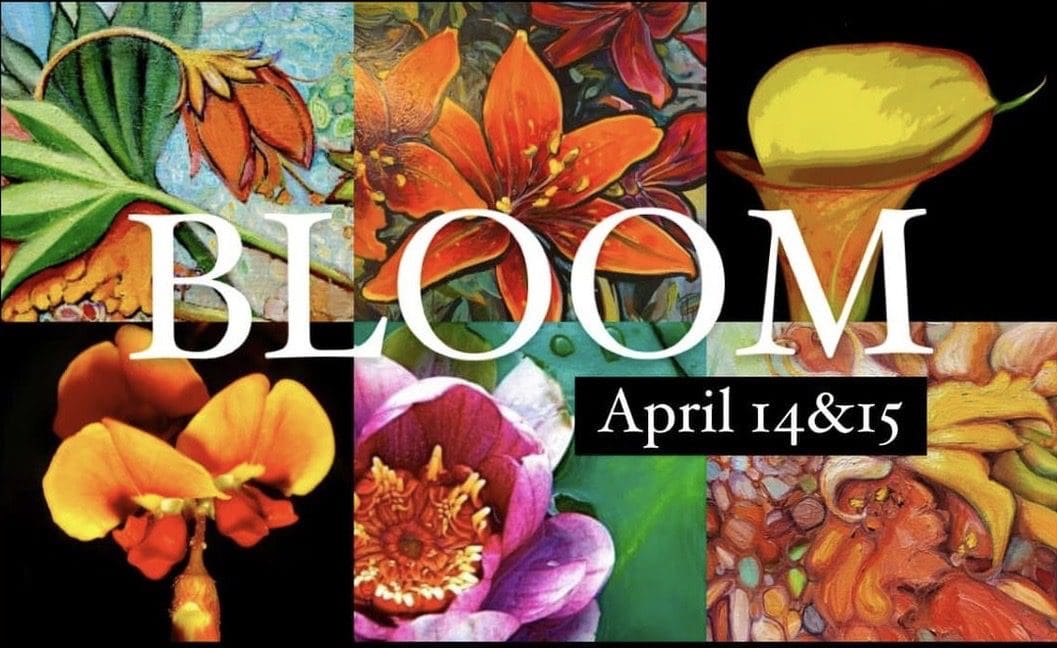 Head to charming downtown Winnsboro for BLOOM, an immersive floral art exhibit
Only 1 hour from Tyler, it's the perfect day trip or girls' weekend!
BLOOM, an immersive floral art experience and exhibit, is coming to the charming and culturally rich East Texas town of Winnsboro. The event is Friday and Saturday, April 14 and 15, on the movie set-like streets of the historic town, which is about one hour from Tyler. It is a juried collection of works from 30 talented artists from around the country. Each has submitted floral artwork that best expresses spring and its representation of "new life" in a broad variety of mediums. The "new life" theme pays tribute to loved ones lost in 2022. All of the artwork will be exhibited at Winnsboro's Modern Country Art and Design Gallery and is for sale.
Downtown Winnsboro, becoming known for its Cultural Arts District, was one of the first Texas towns chosen by the Texas Commission for the Arts for its Cultural Districts pilot program. The program supports communities with thriving cultural and artistic resources. Winnsboro's Cultural Arts District comprises approximately nine blocks of unique galleries, delightful restaurants, eclectic shops and upscale boutiques. It also includes the award-winning Winnsboro Center for the Arts, a central location for the town's cultural activities like concerts, theater productions, art exhibits, workshops and literary events.
April's BLOOM will start at downtown Winnsboro's Modern Country Art and Design Gallery, owned by Dallas/Winnsboro artist Chris Brown. Brown, known in Dallas as both a floral designer (voted Best Floral Designer by D Magazine in 2003) and event planner, is using his gallery as a "blank canvas to create a living work of art for guests to fully experience the season by seeing, feeling, touching, smelling and even tasting all things floral."
Guests will admire the floral expressions of art – still life paintings, photography and sculpture – by the 30 participating artists. They will also take in the fresh floral sculptures created by Brown to reflect still life paintings of the great master artists. Guests can also enjoy an edible flower tasting station.
"Many of the participating artists, myself included, lost people close to them in the past year. BLOOM is a celebration of a new season and new life. It's a setting away from the hustle and bustle of the city and a place to reconnect with art and nature as well as friends and loved ones who want a weekend escape," said Brown, who opened Modern Country in March 2022. Brown has become an active member of Winnsboro's artist community since opening his gallery there. He is also a board member of the Winnsboro Center for the Arts and is co-chairing the town's 2023 Art & Wine Festival.
The springtime floral immersion doesn't end at Brown's Modern Country gallery. After fully immersing the senses in spring themes, guests are given a map and invited to meander the storefront windows of downtown merchants competing in Winnsboro's inaugural Tournament of Windows. Storefronts will be decorated in the theme of spring blooms. Guests can cast votes in ballot boxes around town as they venture in and out of shops and eateries such as Backstage Coffee for a latte, the Taco Dive for homemade tacos and a specialty margarita, Clara Ida Frances for "gotta have" gifts and Beauweevils, for antiques and treasures from 22 different vendors. Windows will be decorated through the end of April.
"The Winnsboro Cultural Arts District works hard to provide a robust environment for creative expression, and you'll find artistic influences in every corner of the district intermingled with rich history and a backdrop of rolling hills, thick forests and lake country," said Mary White, Board of Trustees President, Winnsboro Center for the Arts. "BLOOM is one of many events we have throughout the year that brings people from all over Texas to our quaint community."
"We have so many unique and charming destinations in downtown Winnsboro. BLOOM is the perfect excuse for a springtime romantic weekend get-away or a fun girls' trip!" added Brown.
BLOOM event dates and times are Friday, April 14, 10 a.m.- 5 p.m., and Saturday, April 15, 10 a.m.- 5 p.m. Tickets for the event are $15 per person; groups of 10 or more can get tickets for $10 each. Garden and art clubs and classes are encouraged to visit and time slots can be reserved for groups of 10 or more. Tickets can be purchased here or by calling 214-564-2411. Learn more about Modern Country on Facebook and Instagram. Modern Country Art and Design Gallery is located at 215 North Franklin, Winnsboro, Texas, 75494.
Modern Country Art and Design Gallery is a vibrant, contemporary art gallery located in the heart of Winnsboro, Texas. Owner Chris Brown created the space to not only show his own work, but the artistic works of friends and fellow artists. Chris is one of many who have fallen in love with the town of Winnsboro. He wants to inspire and encourage others to discover it, as well.
Related Events