Birds of Clay Skeet Shoot
July 30 @ 7:00 am

-

1:00 pm

$40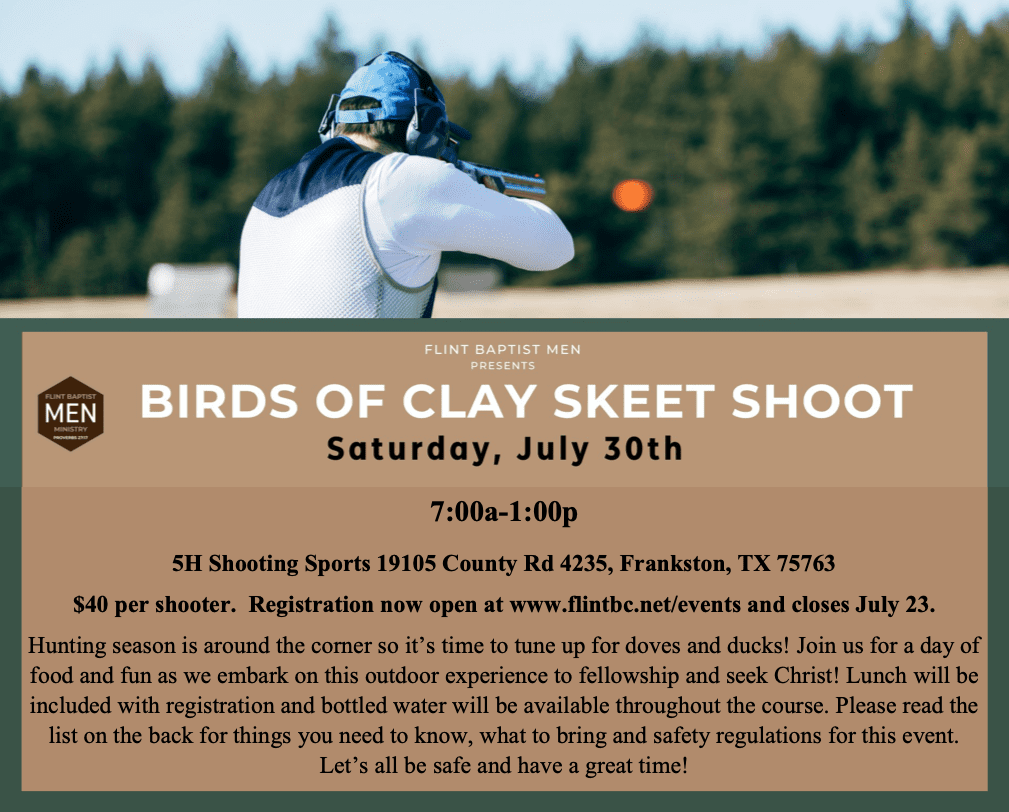 Birds of Clay Skeet Shoot
Saturday, July 30 from 7 a.m. – 1 p.m.
5H Shooting Sports – 1915 Country Road 4235, Frankston, Tx 75763
$40 per shooter
Registration now open at www.flintbc.net/events (registration closes July 23)
Hungint season is around the corner so it's time to tune up for doves and ducks! Join us for a day of food and fun as we embark on this outdoor experience to fellowship and seek Christ! Lunch will be included with registration and bottled water will be available throughout the course. Please read the list below for things you need to know, what to bring and safety regulations for this event. Let's be safe and have a great time!
THINGS TO BRING: Your own shotgun, hearing and eye protection, your own shot shells (bring at least 110 rounds if you're NOT shooting the mulligan station; 120 rounds if you are shooting the mulligan station)
THINGS TO KNOW: There will be two man teams during sign up, 100 clays per shooter, Mulligan station will have 10 shots, If clays are released from thrower at your command to pull and your firearm does not fire, you will not get a re-throw.
SAFETY: Firearms must have action open and safety on at all times. No rounds in magazine unless standing in station ready to shoot with barrel pointed downrange. Only two rounds allowed in gun while standing in station ready to shoot. If gun malfunctions, please remain inside station with firearm pointed downrange until malfunction is cleared and firearm is safe. No shot size larger than #7 1/2. There is livestock and structures in the area. Please be aware of your surroundings and the direction your muzzle is pointed at all times. Do not handle your shotgun until you are ready to walk to the next station and ready to shoot.
Related Events