9/20 Women's Bible DVD Study in Garden Valley at Community Christian Fellowship
October 4 @ 9:30 am

-

11:00 am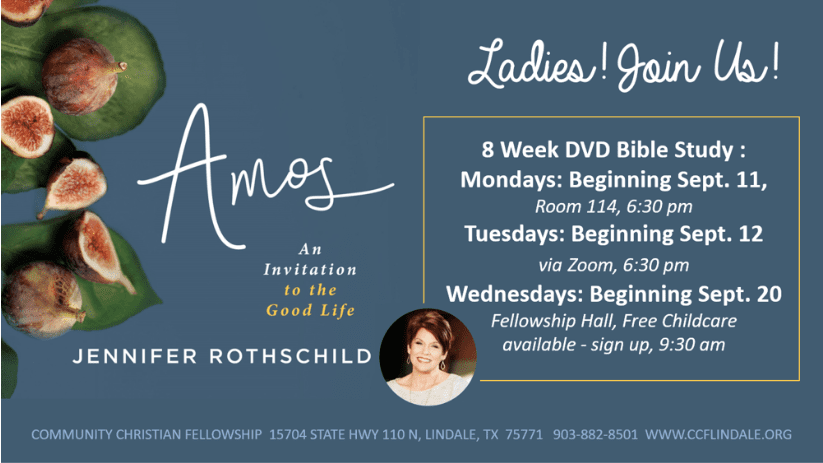 The book of Amos is in our Bible. The prophet Amos is often called a prophet of doom. On the surface, his prophecy doesn't sound like a happy formula for the good life. However, every condemnation he gives serves as an invitation, a cry for us to "seek God and live" (Amos 5:4). You'll be invited to live assured, faithful, chosen, humble, justly, prayerful, and hopeful. This kind of living will bring us and others around us peace and true prosperity. Amos is promoting the God-life, and, the God-life is the good life.
The women's Wednesday morning 8-week DVD Bible Study, "Amos" authored by Jennifer Rothschild, on Sept 20th at 9:30 AM for ages 13 + up. The meetings are free and childcare is free. We will revisit many familiar
stories and historical women of the Bible, helping you discover the very richness found in the Scriptures together.
Workbooks are optional and can be purchased during the first class.
If Wednesdays don't work for you, we have Monday & Tuesday night options,
too.
For more information, please call the church office at 903-882-8501 or see BibleStudy.ccflindale.org to register for the class. Walk-in's are welcome; but, pre-registration for childcare is requested by Sept. 17.
COMMUNITY CHRISTIAN FELLOWSHIP
15704 HWY 110 N LINDALE, TX 75771
903-882-8501
Related Events