2nd Annual Quilt Bazaar
October 8 @ 10:00 am

-

4:00 pm

Free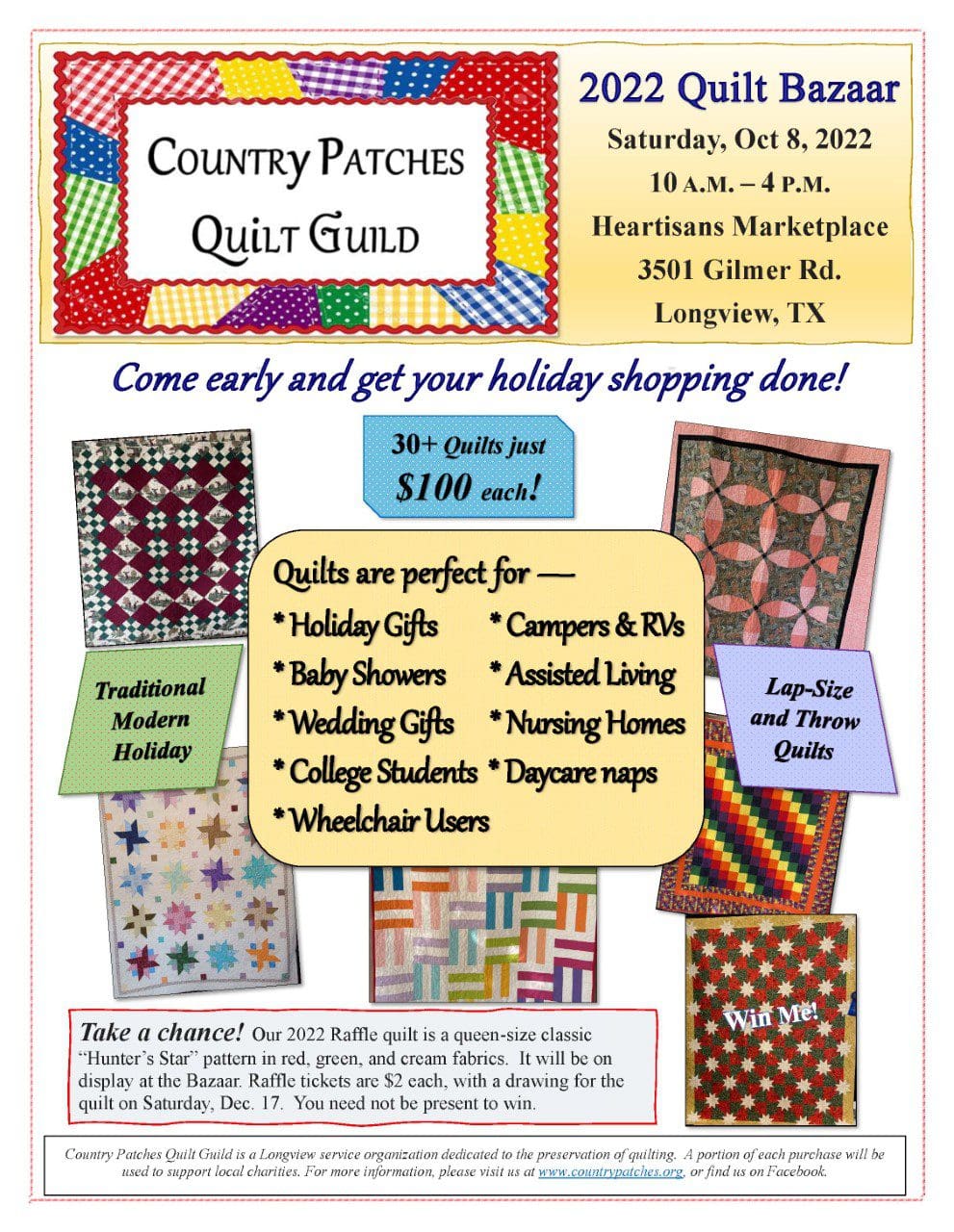 Come and get your holiday shopping done early this year with one-of-a-kind quilts from this year's Quilt Bazaar!
Country Patches Quilt Guild will host its annual outdoor Quilt Bazaar and Sale from 10 a.m. to  4 p.m. Saturday, Oct. 8, 2022, at Heartisans Marketplace, 3501 Gilmer Rd. in Longview. The event features a wide selection of beautiful throw-size quilts for sale, each quilt hand-made by guild members and sold for $100 each.  The Bazaar is expected to draw visitors from across the East Texas area, according to guild members.
"Quilt shows are fun and popular events," said Guild President, Susan Yellott. "Quilters and quilt lovers come from all over the area to enjoy seeing pieces created by follow quilters. We even have some quilts that feature hot air balloons to honor the hot air balloon race in Longview each year.  There is truly something for everyone and at such a reasonable price."
"Everyone loves to have their very own quilt. They are one-of-a-kind gifts for family and friends and are always warmly received. Quilts are the perfect holiday gift for all ages," said Vickie Poe, Guild Vice President.
"And remember, lap quilts are a thoughtful and much appreciated present for wheelchair users or those in assisted living and nursing homes," added Poe. "Hand-made quilts also make ideal birthday, bridal shower, and wedding gifts."
"Lap quilts are just the right size for campers and RV'ers," said Tonya Page, Quilt Bazaar coordinator. "College students also love quilts. In fact, any member of your family would love to get a beautiful quilt from you, so come and get your holiday shopping done early this year!"
Over 30 lovely throw-size quilts, which are pieced and sewn in a beautiful variety of fabrics, styles, and sizes, will be on display on the sidewalk area in front of Heartisans. There will be an assortment of patterns and colors to choose from, ranging from traditional vintage to modern patterns.
The Guild is also selling tickets for its Annual Quilt Raffle on Saturday. The 2022 Raffle quilt is the classic "Hunter's Star" pattern in red, green, and cream fabrics.  It is a beautiful, intricately pieced queen-sized quilt and will be on display at the Bazaar. Raffle tickets are $2 each, with a drawing for the quilt on Saturday, Dec. 17.  You need not be present to win.
Country Patches Quilt Guild meets every 3rd Saturday at St. Mary's Catholic Church, 2108 Ridgewood Dr., in Longview. Social time starts at 9:30 a.m., and the meeting begins at 10 a.m. Meetings are open to anyone interested in learning more about the art of quilting and visitors are warmly welcomed!
For more information, please visit our website at www.countrypatches.org, or find us on Facebook,  https://www.facebook.com/Country-Patches-Quilt-Guild-341236614779.
Related Events